"Security is fundamental to human existence. We have to strive to the best of our ability to forestall imminent risks. It is this primordial need that has propelled man forward, from the onset of history" Ever since the inception of GSPL in 1996, we have been constantly striving to give our clients the best services in the field of security and surveillance. Testimony to this is the fact that today we have our client list of distinguished Corporate, Industries, Malls, Research Institutes, Govt. Undertakings, Educational Institutes, cine complexes and many more. Under the able chaperonage of our illustrious Chairman & Managing Director Major J S Kalsi, GSPL is steadily going from strength to strength. The GSPL conglomerate consists of two divisions – Gurubani Security Pvt. Ltd & Gurubani Detective Services.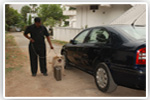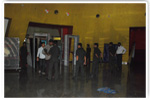 Established in 1996.
---
Manpower- Over 4000 Civilian Guards.
Nearly 450 Ex Servicemen Guards.
Gunmen. - Bouncers.
9 States & 12 branches.
Office Staff.
---